Curriculum Vitae (CV)
Dr. Clemens Heni, Political Scientist
(Updated: November 17, 2017)
Sophie-Charlotten-Str. 9–10
14059 Berlin, Germany
Phone: +49 (0)30 4209 6371
Fax: +49 (0)3212 141 5566
E-Mail: clemens.heni[at]gmail.com
Facebook: Clemens Heni
1995 B.A. University of Tübingen (Political Science)
1996 B.A. University of Tübingen (Cultural Studies)
1999 M.A. University of Bremen (Political Science) ("summa cum laude")
2006 Ph.D. (Dr. phil.) University of Innsbruck (Austria) (Political Science) ("summa cum laude")
(1) Position
Since May 2016: Editor-in-Chief, Journal of Contemporary Antisemitism (JCA), Academic Studies Press, Boston, MA, US
Since August 2011: Publisher, Edition Critic
Since January 2011: Director, The Berlin International Center for the Study of Antisemitism (BICSA)
(2) Education
Dr. phil./Ph.D. (2006):
[›National Identity‹, antisemitism and anti-Americanism in Germany's political culture 1970 – 2005: the case of Henning Eichberg and the New Right, in Political Science at University of Innsbruck (Austria) [in German, see my book listed below in 2007; First Advisor: Prof. Dr. Anton Pelinka, University of Innsbruck; Second Advisor: Prof. Dr. Andrei S. Markovits, University of Michigan]
Ein völkischer Beobachter in der BRD. Die Salonfähigkeit neuer-rechter Ideologeme am Beispiel Henning Eichberg (»summa cum laude«), Diss. Uni Innsbruck 2006, publiziert als "Die Salonfähigkeit  der Neuen Rechten. ›Nationale Identität‹, Antisemitismus und Antiamerikanismus in der politischen Kultur der Bundesrepublik Deutschland 1970–2005: Henning Eichberg als Exempel, Marburg: Tectum Verlag (509 Seiten, siehe unten unter books).
Diplom/M.A. (1999):
[Antisemitism and Germany. A comparison of the analysis of ›ordinary Germans‹ of Daniel J. Goldhagen and the ›elements of anti-Semitism‹ of Max Horkheimer and Theodor W. Adorno (»High Honors«) in Political Science at the University of Bremen, in German, partly published in Heni 2009, listed below, Advisor: Prof. Dr. Stephan Quensel]
Wie deutsch ist abendländische Vergesellschaftung? Die Analyse der ›ordinary Germans› von Daniel J. Goldhagen und die ›Elemente des Antisemitismus› von Max Horkheimer und Theodor W. Adorno im Vergleich, Institut für Politikwissenschaft, Universität Bremen, 1999.
Zwischenprüfung/B.A. (1995) in Political Science and (1996) B.A. in Cultural Studies (University of Tuebingen) [both in German]
(3) Employment
Sep. 2008– Aug. 2009: Post-Doctoral Associate, Yale Initiative for the Interdisciplinary Study of Antisemitism (YIISA), Yale University, USA (Project: Shoah Remembrance and new Antisemitism in today's Germany)
(4) Fellowships and Grants
Research Fellow, The Vidal Sassoon International Center for the Study of Antisemitism (SICSA), Hebrew University, Jerusalem (Prof. Robert S. Wistrich), November 2010–May 2015
09/2005–06/2006: PhD Fellowship Fondation pour la Mémoire de la Shoah (Paris)
01/2003/–12/2004: Felix Posen Fellow (Hebrew University, The Vidal Sassoon International Center for the Study of Antisemitism (SICSA), Director Prof. Robert Wistrich, Jerusalem)
07/2002–06/2005: Full PhD Fellowship Hans Boeckler Foundation (Duesseldorf, Germany)
(5) Conferences and Public Talks
The Robert S. Wistrich Memorial Lecture 2017, organized by the Berlin International Center for the Study of Antisemitism (BICSA), main speaker: Lesley Klaff, Sheffield Hallam University, England, May 19, 2017
The Robert S. Wistrich Memorial Lecture 2016, organized by the Berlin International Center for the Study of Antisemitism (BICSA), main speakers: Danielle Wistrich, Jerusalem, and Prof. David Ohana, Ben-Gurion University, May 19, 2016, video
Participant of the Global Forum for Combating Antisemitism, held by the Israeli Foreign Ministry, Jerusalem, 24–25 February 2008, 16–17 December 2009, 28–30 May, 2013, 12–14 May, 2015
Germany and Holocaust Remembrance, 70 years after the end of National Socialism, Osnabrück, April 20, 2015 [in German]
Presenting my book Critical Theory and Israel, youth organization of the party of the Left, Berlin, February 17, 2015 [in German]
Presenting my book Critical Theory and Israel, University of Erlangen, Jan. 9, 2015 [in German]
Third Seminar on Antisemitism, Baruch Spinoza Foundation, Barcelone, Nov. 5, 2014, video
Islamic Studies and Antisemitism, Technical University of Darmstadt, 11 June 2014 [in German]
Hebrew University, May 2014, The Vidal Sassoon International Center for the Study of Antisemitism (conference in honor of Prof. Robert S. Wistrich), talk about "How not to study Antisemitism", video (introduction by Prof. Shmuel Trigano)
Talk at the Institute for the Study of Global Antisemitism and Policy (ISGAP), New York City, about Critical Theory and Zionism, March 27, 2014, video
World Jewish Congress (WJC), Jerusalem Office, May 27, 2013 (presentation of my book Antisemitism: A Specific Phenomenon)
Remembering the dead Jews and betrayal of the living Jews today?, Kassel, November 9, 2012 [in German]
talks about my book Islamic Studies and Antisemitism in Germany after 9/11: Oberhausen, February 14, 2012, Stuttgart, March 6, 2012, Nuremberg, March 7, 2012 [in German]
Journal for the Study of Antisemitism (JSA): "Antisemitism in the UK," London, Wiener Library, December 2, 2012, video
University of West Bohemia, Pilsen (Czech Republic), "The IV. International Conference on Anti-Semitism," October 22, 2009
Hadassah Book Club, Southbury, Connecticut, April 16, 2009
Yale University, The Yale Initiative for the Interdisciplinary Study of Antisemitism (YIISA) Symposium: "Understanding Facets of Contemporary Antisemitism," April 3, 2009
University of West Bohemia, Pilsen (Czech Republic), "The III. International Conference on Anti-Semitism," November 6/7, 2008
Moses-Mendelssohn-Center for European Jewish Studies, Potsdam, (presenting my doctoral dissertation about the Mainstreaming of the New Right in Germany 1970–2005), November 13, 2007 [in German]
University of Tuebingen (Germany), Institute for Empirical Cultural Studies: "The Cultural Side of Antisemitism between Enlightenment and the Shoah," October 10/11, 2004
The Vidal Sassoon International Center for the Study of Antisemitism (SICSA), Hebrew University, Jerusalem: "Antisemitism and anti-Zionism in Western Europe since 2000," December 18, 2002
Bremen, Gruppe m.e.l.a.n.g.e, on German history and antisemitism, January 2002 [in German]
(6) Publications [titles in […] indicate that the original is in German]
(6.1) Books
(2017)
 
[An Alternative to Germany. Essays] Eine Alternative zu Deutschland. Essays, Berlin: Edition Critic (262 pp.) | Softcover | 14,8x21cm | 262 Seiten | Personenregister | 15€ | ISBN 978-3-946193-17-3
(2014)
[Critical Theory and Israel. Max Horkheimer and Judith Butler, Judaism, binationalism, and Zionism] Kritische Theorie und Israel. Max Horkheimer und Judith Butler im Kontext von Judentum, Binationalismus und Zionismus, Berlin: Edition Critic (178 pp.), ISBN 978-3-9814548-8-8
(2013)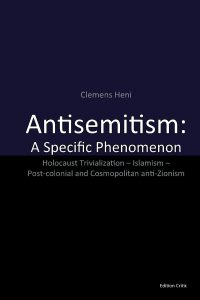 Antisemitism Specific Phenomenon. Holocaust Trivialization – Islamism – Post-colonial and Cosmopolitan anti-Zionism, Berlin: Edition Critic (648 pp.), ISBN 978-3-9814548-5-7
(2011)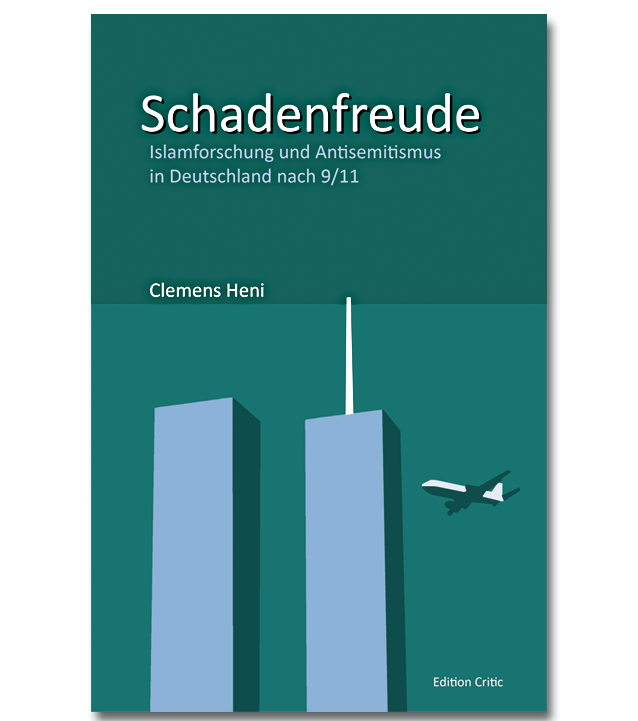 [Schadenfreude. Islamic Studies and Antisemitism in Germany after 9/11] Schadenfreude. Islamwissenschaft und Antisemitismus in Deutschland nach 9/11, Berlin: Edition Critic (410 pp.), ISBN 978-3-9814548-0-2
Reviews:
Tribüne. Zeitschrift zum Verständnis des Judentums, Vol. 51, No. 202, 2012 (Friedrich Klein)
 (2009)
[Antisemitism and German history] Antisemitismus und Deutschland – Vorstudien zur Kritik einer innigen Beziehung, Morrisville: Lulu (330 pp.), ISBN 978-3-00-027564-7
(2007)
[The New Right in Mainstream Germany; National Identity, Antisemitism, and anti-Americanism in Germany 1970–2005, the case of Henning Eichberg] Salonfähigkeit der Neuen Rechten. 'Nationale Identität', Antisemitismus und Antiamerikanismus in der politischen Kultur der Bundesrepublik Deutschland 1970–2005: Henning Eichberg als Exempel, Marburg: Tectum Verlag (509 pp.), preface by Prof. Anton Pelinka (first advisor], ISBN 978-3-8288-9216-3 [doctoral dissertation, University of Innsbruck, 2006, "summa cum laude"]
Reviews:
1)Tribüne – Zeitschrift zum Verständnis des Judentums, 4/2008
2)Brandenburgische Landeszentrale für politische Bildung, 2008
3)Zeitschrift für Politikwissenschaft, 4/2007
4)Neue Politische Literatur, 1/2008
5)Jungle World, No. 39/2007
6)Jüdische.at and hagalil.com
7)Jahrbuch Extremismus & Demokratie 2008
8)Infobrief des DGB Bildungswerk Bayern 2/2007
9)KontrAST 6/2007, Universität Hannover
10)Newsletter Nr. 52 Fachschaftsrat Politik Soziologie, Universität Jena, 2008
(6.2) Edited Books
(2012)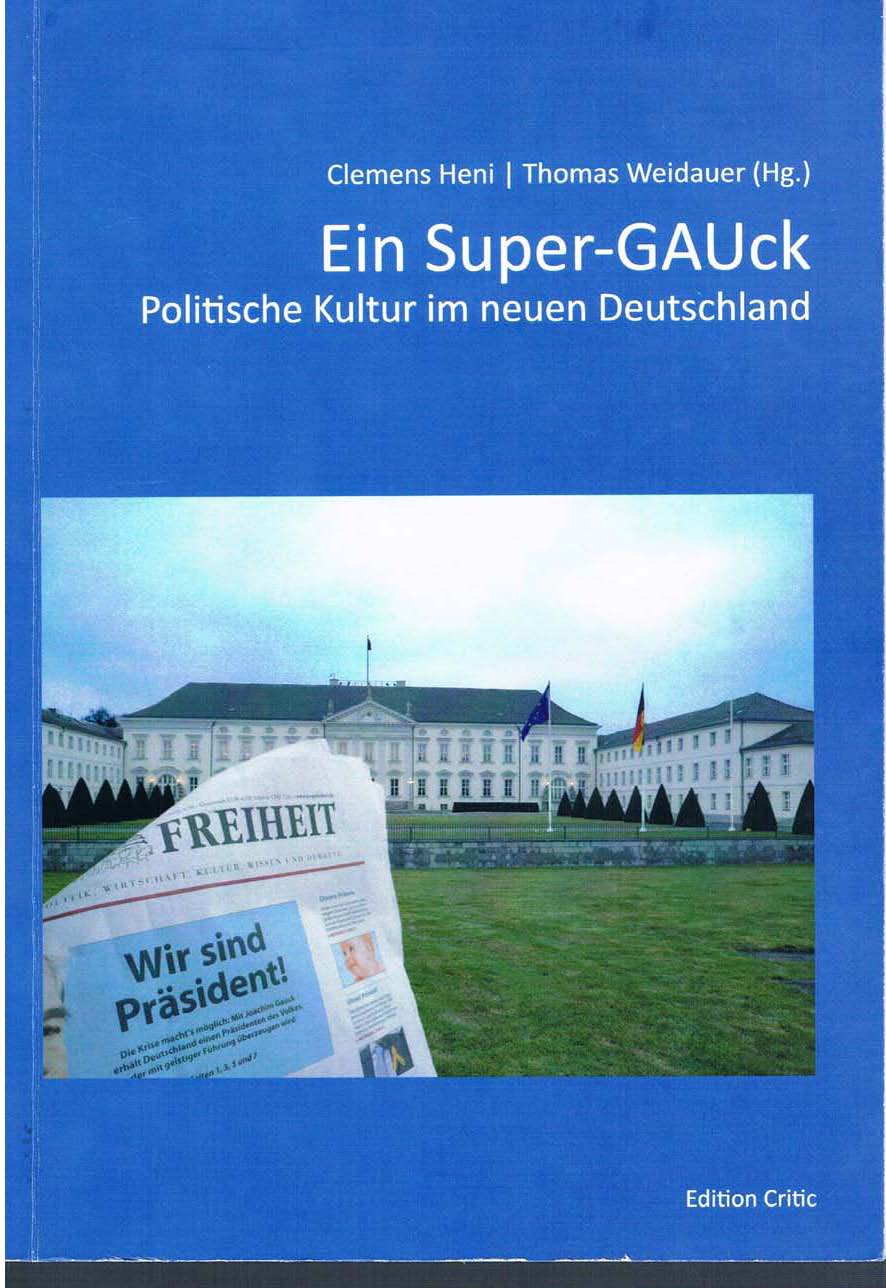 [on Holocaust Remembrance and the new German Presidency under Joachim Gauck] Clemens Heni/Thomas Weidauer (eds.): Ein Super-GAUck. Politische Kultur im neuen Deutschland, Berlin: Edition Critic (112 pp.), ISBN 978-3-9814548-2-6
(6.3) Translations
2016 [Fania Oz-Salzberger/Yedidia Z. Stern: The Israeli Nation-State. Political, Constitutional, and Cultural Challenges (Israel: Society, Culture, and History), from English into German, with Michael Kreutz, to be published Fall 2016]
2011 [Robert S. Wistrich: Muslim Antisemitism, from English into German], Robert S. Wistrich: Muslimischer Antisemitismus. Eine aktuelle Gefahr, Berlin: Edition Critic [161 pp., including 80 pages translation, plus my own introduction into the work of historian Wistrich, and a bibliography of his texts since 1973]
(6.4) Series Editor
[Fania Oz-Salzberger/Yedidia Z. Stern (eds.), The Israeli Nation-State. Political, constitutional and cultural Challenges, 2014] Fania Oz-Salzberger/Yedidia Z. Stern (Hrsg.), Der israelische Nationalstaat. Politische, verfassungsrechtliche und kulturelle Herausforderungen (=The Berlin International Center for the Study of Antisemitism (BICSA), [Middle East Studies, Vol. 6] Studien zum Nahen Osten, Band 6, Berlin: Edition Critic 2017
[Wiebke Dursthoff, Kibbutz and Bauhaus. Arieh Sharon and Modernity in Palestine] Wiebke Dursthoff, Kibbutz und Bauhaus. Arieh Sharon und die Moderne in Palästina (=The Berlin International Center for the Study of Antisemitism (BICSA), [Middle East Studies, Vol. 5] Studien zum Nahen Osten, Band 5 [zgl. Diss. Uni Hannover 2010]), Berlin: Edition Critic 2016
[Robert S. Wistrich, Hitler's Apocalypse] Robert S. Wistrich, Der antisemitische Wahn. Von Hitler bis zum Heiligen Krieg gegen Israel. Mit einem Vorwort von Robert S. Wistrich, Mai 2015 und dem Nachruf "Das Ende einer Epoche". Aus dem Englischen von Karl Heinz Siber (=The Berlin International Center for the Study of Antisemitism (BICSA), Studies in Antisemitism/Studien zum Antisemitismus, Band 5 [Paperback Mai 2016, Hardcover Dez. 2015]), Berlin: Edition Critic, 2015
[Karl Pfeifer: A Jewish Biography in Europe and Palestine] Karl Pfeifer. Einmal Palästina und zurück. Ein jüdischer Lebensweg (=The Berlin International Center for the Study of Antisemitism (BICSA), [Middle East Studies, Vol. 4] Studien zum Nahen Osten, Band 4), Berlin: Edition Critic, 2015
[Georg M. Hafner/Esther Schapira, Mohammed al-Durah and the Media Fight about Truth] Georg M. Hafner/Esther Schapira, Das Kind, der Tod und die Medienschlacht um die Wahrheit. Der Fall Mohammed al-Durah (=The Berlin International Center for the Study of Antisemitism (BICSA), Middle East Studies, Vol. 3), Berlin: Edition Critic, 2014
Ben Cohen: Some Of My Best Friends. A Journey Through Twenty-First Century Antisemitism (=The Berlin International Center for the Study of Antisemitism (BICSA) Studies in Antisemitism, Vol. 4), Berlin: Edition Critic, 2014
[Anton Maegerle, German Extreme Right from 1988 – 2013] Anton Maegerle, Vom Obersalzberg bis zum NSU: Die extreme Rechte und die politische Kultur der Bundesrepublik 1988–2013 (=The Berlin International Center for the Study of Antisemitism (BICSA), [Studies in Right-Wing Extremism and the New Right, Vol. 1] Studien zum Rechtsextremismus und zur Neuen Rechten, Band 1), Berlin: Edition Critic, 2013
[Robert S. Wistrich, Muslim Antisemitism] Robert S. Wistrich, Muslimischer Antisemitismus. Eine aktuelle Gefahr. Aus dem Englischen von Clemens Heni, unter Mitarbeit von Thomas Weidauer. Mit einem Vorwort von Clemens Heni, einem Nachwort von Robert S. Wistrich sowie einer Bibliografie der Schrift von Robert S. Wistrich seit 1973 (=The Berlin International Center for the Study of Antisemitism (BICSA), Studies in Antisemitism/Studien zum Antisemitismus, Vol. 2/Band 2), Berlin: Edition Critic, 2011
(6.5) Scholarly Articles (including peer-reviewed journals and book chapters)
(2017):
Antisemitism in the Twenty-first Century, in: Journal of Contemporary Antisemitism (JCA), Academic Studies Press, Vol. 1.1., Fall 2017, 1-9 (DOI: 10.26613/jca/1.1.1)
[Contribution to Festschrift for Prof. Earl Jeffrey Richards] "Jenseits 'heiterer Philologie'? Vom SS-Ahnenerbe in die Bundesrepublik: Karl Bosl und sein Schüler Wolfgang Benz", in: Danielle Buschinger et al., (eds), Mélanges offerts à Jeff Richards par ses amis à l'occasion de son 65e anniversaire, Centre d'Etudes Médiévales de la Picardie, Amiens 2017 (in print 2017)
"Germany," entry in: The American Foreign Policy Council (ed.), World Almanac of Islamism, (update of the 2011 edition)
(2016):
Studying Antisemitism: Some Troubling Trends in Academia, in: Robert S. Wistrich (ed.): Anti-Judaism, Antisemitism, and Delegitimizing Israel, Lincoln, NE 2016: Nebraska University Press, 148–154
[Preface to Wiebke Dursthoff, Arieh Sharon, Kibbutz and Bauhaus in Palestine, "Zionism and German Universities today], Vorwort: Zionismus und die Realität an deutschen Universitäten heute, in: Wiebke Dursthoff, Kibbutz und Bauhaus. Arieh Sharon und die Moderne in Palästina, Berlin: Edition Critic, 2016 (The Berlin International Center for the Study of Antisemitism (BICSA), Studien zum Nahen Osten, Band 5, 10-18
(2015):
[On German Holocaust Remembrance and today's "secondary" Antisemitism], Auch Deutsche unter den Opfern. 70 Jahre Ende des Nationalsozialismus: Über die Erinnerungspolitik und den Antisemitismus seit 1945, www.literaturkritik.de, May 4, 2015
[Orbituary on Robert S. Wistrich] Nachruf: Das Ende einer Epoche, in: Robert S. Wistrich: Der Antisemitische Wahn. Von Hitler bis zum Heiligen Krieg gegen Israel. Mit einem Vorwort von Robert S. Wistrich, Mai 2015 und dem Nachruf »Das Ende einer Epoche«, Berlin 2015: Edition Critic, i-xvi
(2013):
"Germany," entry in: The American Foreign Policy Council (ed.), World Almanac of Islamism, (update of the 2011 edition), Lanham 2013
"Antisemitism in UK Academia," Journal for the Study of Antisemitism, Vol. 5, No. 1, 2013, 4401–4415
(2012):
[on rejection of Holocaust remembrance and new German Presidency under Joachim Gauck, 2012] "Die Abwehr der Erinnerung an den Holocaust und die komparatistische Obsession," in: Clemens Heni/Thomas Weidauer (eds.), Ein Super-GAUck. Politische Kultur im neuen Deutschland, Berlin: Edition Critic 2012, 7–42
(2011):
"Germany," entry in: The American Foreign Policy Council (ed.), World Almanac of Islamism, Lanham: Rowmann & Littlefield 2011, 437–449
[Preface to Robert S. Wistrich's "Muslim Antisemitism"], "Vorwort – Eine Einführung in das Werk von Robert Solomon Wistrich," in: Robert S. Wistrich, Muslimischer Antisemitismus. Eine aktuelle Gefahr, Berlin: Edition Critic 2011, 7–31
(2010):
[Holocaust remembrance and the Prague Declaration] "Die Prager Deklaration. Antisemitismus im neuen Europa," Tribüne. Zeitschrift zum Verständnis des Judentums, Vol. 49/2, No. 194 (2010), 106–112
"Denial of Islamism," Journal for the Study of Antisemitism, Vol. 2, No. 2, 2010, 476–478
"Islamic Antisemitism and the Failure of Western Academia," Mentalities/Mentalités. An interdisciplinary journal, Vol. 24/2 (2010), 24–35
"German ideology. Understanding Ahasver, Mammon, and Moloch," Journal for the Study of Antisemitism, Vol. 2, No. 1 (2010), 49–87, http://www.jsantisemitism.org/pdf/jsa_2-1.pdf
[Antisemitism in the US after 1945] "Antisemitismus in Amerika nach 1945," Tribüne. Zeitschrift zum Verständnis des Judentums, Vol. 49, No. 193 (2010), 76–82
(2009):
"Antisemitism as a specific Phenomenon Journal for the Study of Antisemitism Vol 1 No 1 2009," 29–38
"The Prague Declaration, Holocaust Obfuscation and Anti-Semitism," in: Vĕra Tydlitátová/Alena Hanzová (eds.) (2009), Anatomy of Hatred: Essays on Anti-Semitism, Pilsen, University of West Bohemia. The Centre of Middle Eastern Studies, 47–59
(2008):
"Shoah Remembrance and New Anti-Semitism. Derealization, Universalization, and Trivialization of the Holocaust and Anti-Semitism," in: Vĕra Tydlitátová/Alena Hanzova (eds.), Reflections on Anti-Semitism: Anti-Semitism in historical and anthropological perspectives, Pilsen 2008: The Centre of Middle Eastern Studies, 26–34
[Secondary Antisemitism after the Shoah], "Sekundärer" Antisemitismus. Ein kaum erforschter Teil des Post-Holocaust-Antisemitismus," Tribüne. Zeitschrift zum Verständnis des Judentums, Vol. 47, No. 187 (2008), 132–142
"Secondary Anti-Semitism. From Hard-core to Soft-core Denial of the Shoah," Jewish Political Studies Review, 20:3–4 (Fall 2008), 73–92
[On Historian Götz Aly, and his mislead equation of the 1968 revolt and Nazi Germany], 1968=1933? Götz Alys Totalitarismusfiktion," in: Blätter für deutsche und internationale Politik, Vol. 53, No. 4 (2008), 47–58
(2006):
[Ahasver, Mammon, and Moloch. About the "eternal Jew" in German history since the 19th century] "Ahasver, Moloch und Mammon. Der 'ewige Jude' und die deutsche Spezifik in antisemitischen Bildern seit dem 19. Jahrhundert," in: Andrea Hoffmann et al. (eds.) (2006), Die kulturelle Seite des Antisemitismus zwischen Aufklärung und Shoah, Tübingen: TVV, 51–79